Inclusive Community Development Network Webinar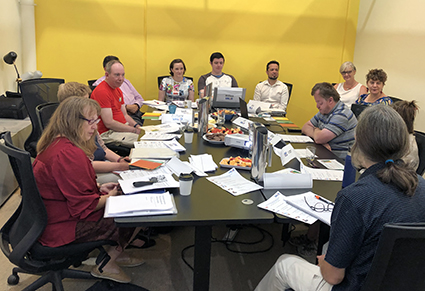 For our last online network meeting in April we had Peter Kenyon from Bank of Ideas as a speaker.    Peter addressed the topic – How Can We Build Community Capacity for Inclusion and Connection During and Beyond COVID-19? An edited recording of this meeting will soon be available to all who are interested in catching up on this presentation.
For our second online meeting we are really pleased to have Carol Blessing from Cornell University speak to us about the challenges of supporting people with disabilities to move from clientship to strong and dynamic roles in citizen leadership.
Carol Blessing, LMSW has over 30 years in the field of disability services in both direct practice and management capacities.  In 2000, she joined the faculty at the Yang-Tan Institute on Employment and Disability in the ILR School at Cornell University where she leads system's impact projects aimed at supporting the full inclusion of people with disabilities in typical community life.  Throughout her career she has worked with individuals living with intellectual and/or developmental disabilities, including those incarcerated in New York maximum security prisons and with individuals living with psychiatric disabilities in state institutions.
Carol developed the landmark Citizen-Centered Leadership online series (www.cclds.org), an international leadership development theory-to-practice program.   She is the author of several publications, including co-authoring Conversations on Citizenship and Person-Centered Work (2011).  Carol co-designed the Framework for Planning©, a person-centered planning approach to supporting people in finding positive pathways into their future through employment and other valued social roles.
If you are planning to attend please RSVP to [email protected] to give us some idea of numbers for the day.